SEE Cooler product range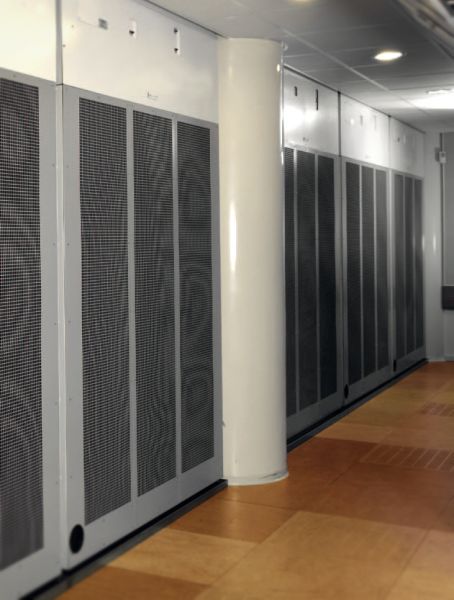 SEE Cooler is a third generation unit with over 1500 units in operation. The product allows 100% free cooling up to about +15ºC outside temperature. Low internal power consumption and high cooling effect compared to conventional technology.
Built in redundancy and a minimum of moving parts make it optimal for high cooling effects W/m². SEE Cooler is designed to work in a free cooling solution at coolant temperatures between +5 and 20°C.
Specific features are:
Maximum inlet velocity of about 0.8 m/s.
Equipped with EC fans
Power consumption kW / kW, about 0.8% at 24ºC, 50% humidity in the room
Coolant at 10ºC gives a COP of approximately 136.
Tillgänglig i två varianter, S och HDZ, den sistnämnda med ökad kapacitet och redundans. Kapacitsområdet är 5-71 kW/enhet vid 22°C köldbärartemperatur.
SEE Cooler S
Telecom & Data Center Standard Product SEE Cooler S is a patented extremely energy efficient Tele & Datacom cooler to be connected directly to the coolant. This is our standard product to be used in premises with data equipment, telecom equipment and other open spaces like factories.
SEE Cooler HDZ
High Density Zone Data Center Product SEE Cooler HDZ is a patented extremely energy efficient Datacom cooler is designed for high density cooling of blade server racks and other equipment with high heat dissipation. SEE Cooler HDZ can be connected to three separate mains with or without UPS.
Optional equipment
– "Chimneys" in different modules to adopt air inlet to ceiling height. – Control Modules with different set of sensors and interfaces to centralized maintenance – Filter modules
Contact us
Looking for cooling products or services? Find out more about what SEE Cooling is doing in energy efficient cooling.